Autumn Update
During one of our staff training days in September, I spoke of how Change@CCHS started as a means of contributing to anti-racism work, and that over the course of the year, the objective of the platform had evolved.  Change@CCHS is really about inclusivity in all its forms, and we are committed to ensuring equality of education and opportunity for all, irrespective of race, sexual orientation, disability, religion, or socio-economic background. We want all those connected to the school to feel proud of their identity and be able to participate fully in school life as a valued member of our community. That means inclusivity with regards to the protected characteristics, not as single social categorisations, but as overlapping and interdependent systems of advantage and disadvantage.
Inclusivity is a celebration of human diversity, and one specific aspect that we have been researching further is that of Neurodiversity.
Neurodiversity is the diversity of ways in which humans think, learn, and relate to others.  It is estimated to effect around 20% of the population.  It is about realising that the differences in brain function exhibited by people diagnosed with dyslexia, ADHD or autism, is a normal and natural aspect of human variation to be expected and accepted.
We are happy to accept that different plants need different environments to thrive yet are often too quick to assume all young people will benefit from the same environment and inputs.  Recognising that there are different but equally valid ways of doing things and promoting acceptance of individuality and difference are key to increasing self-esteem, confidence, and achievement in individuals.
In the Autumn update (below), Mr Harvey, Subject Leader for Art, and School Development Leader, writes about his research project on diversity and his plans to implement suggestions made at a recent webinar he attended on supporting neurodiversity in education, with Dr Chiara Harlin & Dr Elliot Spaeth.
Also, within the Autumn update (below), Mrs Cross provides details of staff training that took place during one of our staff INSET days on LGBTQ+ and the use of language.
October marks Black History Month, the annual celebration of the history, achievements, and contributions of black people in the UK.  This year the uplifting theme of Proud to Be was observed by students in Years 10, 12, and 13.  Miss Harrison provides details of this truly inspirational assembly delivered to our school community.
In an initiative promoted by Mrs Dawson, our Subject Leader of History, teachers across the school have been sharing examples of Black men and women who inspire them.
Meet some of  the Change & Diversity Prefects
Year 12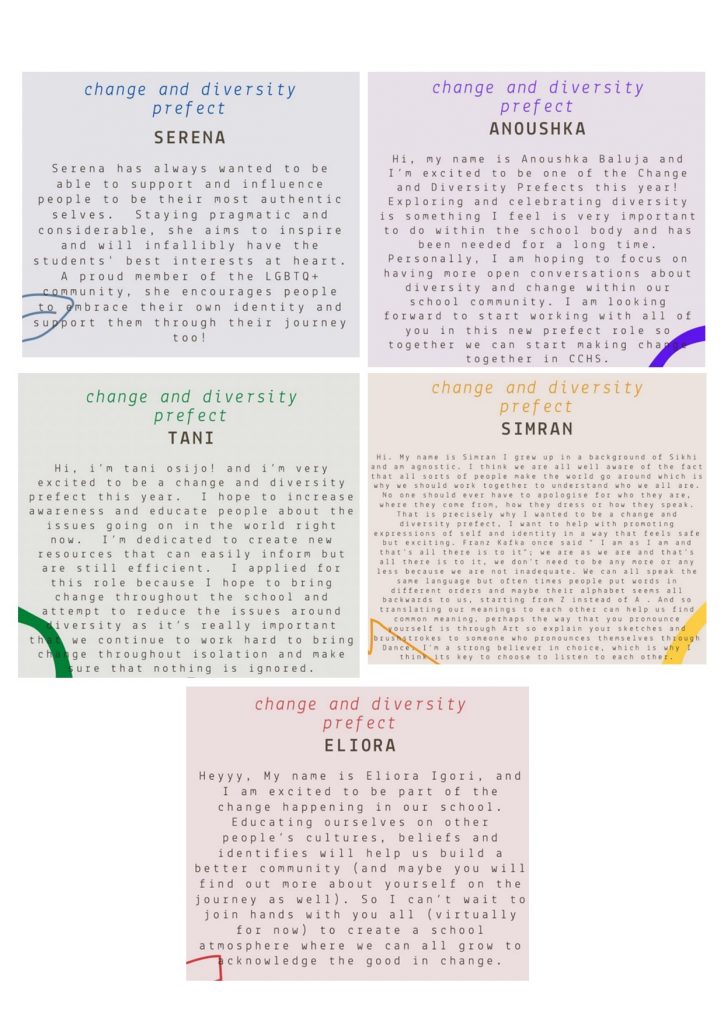 Year 10
Hi! I'm Bowale, I am so happy and excited to be a change and diversity prefect this year. I think by educating ourselves and others about different people's experiences and beliefs, we can all connect better as a school and community as well as make us more aware of the issues that affect our society. I am looking forward to working along with everyone and opening this discussion up more.
Hi, my name is Sithuli, I'm extremely excited to be one of the change and diversity prefects this year! I believe that it is really important to celebrate diversity and learn about different cultures, as it helps us understand each other and develop a stronger sense of community. I'm really looking forward to start helping to start making a change in our school.
Hello my name is Martha and I am really happy to have been given the role of a change and diversity prefect. I applied for this role because especially in this coming day and age change is arising – meaning that we can't stay in our usual ways and have to adapt with it. I look forward to working with the other prefects  so that every pupil in the school can feel loved and like they belong, no matter their situation, background, looks and the many other things that people easily judge. Furthermore, I believe that it's all about making small changes that will start to create big impacts- in essence, a ripple effect.
Hi, my name is Lola and I am very excited to be one of the change and diversity prefects this year. I'm looking forward to learning and spreading awareness for different disabilities, cultures and communities. I want to be able to help people facing unjust issues, especially as due to lockdown it has been harder for people to speak out. Hopefully I will be able to help make a difference in our school community!
Hello I am Mehar and I am so excited to be a change and diversity official this year. I wanted to apply for this role because I would love to help people in this school feel more comfortable and accepted. I really hope I can help make a difference here and look forward to being part of the change!
Useful Resources: