Summer Update
I wrote in our Autumn 2020 newsletter, Communitas, that, "We have never viewed our curriculum as innate, a noun or a thing, but rather as something dynamic, flexible, ever-changing, in which ideas, books and concepts come alive.  The curriculum is at the very heart of our School"
It has become clear to me, following meetings with our Year 12 and Year 10 Change & Diversity Prefects, that it is through our curriculum that we will have by far and away the biggest impact when it comes to change@CCHS and have reflected this with an update to our Curriculum Policy that can be found here.
The Runnymede Trust report into Race and Racism in English Secondary Schools reveals that there is, "An abiding sense that the narrow and insular curriculum constitutes a fundamental barrier to a more racially equitable education system".  This becomes compounded throughout the exam years where the curriculum is constrained by the resources and course content prescribed by examination boards.  Efforts to modernise the curriculum continue to gain momentum, but in the meantime those of us with a key interest in taking a progressive approach, are maximising the opportunity for teaching about race and ethnicity, particularly in the first three years of secondary education.
Within this May update, we will hear about efforts to modernise our curriculum from our Languages, History and Geography subject leaders.
Mrs Emma Ledwidge, Deputy Headteacher and Change Project Leader
Black History Month
Throughout October, as a starting point for the 'CCHS Change Project', we have celebrated the UK's annual Black History Month in a variety of ways, focusing largely on recognising and celebrating black excellence. Our wonderful team of Sixth Form students have led our whole school celebrations with assemblies, workshops and film screenings, including a student-led assembly entitled 'Messy Hair Don't Care'. Through this assembly, all year groups were able to explore the significance of hair and how it is integral to someone's identity.
This was complemented beautifully by a screening of 'Dolapo is Fine', which premiered in the UK on the British Film Institute website as part of the 2020 London Film Festival after winning the HBO Short Film Competition at the 23rd Annual American Black Film Festival. It has also been nominated for a series of other awards at other international film festivals. The short film is described as 'a rewarding and thoughtful depiction of an ever-relevant issue which finds a young black girl about to leave boarding school and encouraged to conform to white beauty standards for a job in the City' (BFI, 2020).
In addition, the students have worked hard to research and create form-time workshops which have focused on a wide range of themes including 'Music as Protest', 'Jazz Music', 'Mary Seacole and the British Hotel', 'Allyship' and 'The Truth About Gynaecology'. Everything highlighted by the students in the assemblies, workshops or films has celebrated previously unsung heroes of black heritage.
Throughout our Black History Month celebrations, we have reflected on the fact that celebrations for just one month each year are not enough – black history should be part of our everyday life and curriculum. As such, we will be launching the '@CCHSChange Committee' after the October half term holiday, in a bid to make our reflection a reality. We are pleased that so many students have already volunteered to be part of this important work – inspired, in part, by the Black History Month programme created by our senior students
Miss Fiona Harrison, Assistant Headteacher (Pastoral) and Miss Heidi Pocock, Subject Leader – Geography
Equality and Diversity UK
Following our September Update where we shared with you our whole staff training on our September inset day we have continued to develop and enrich staff CPD. In support of our long-term commitment to Change@CCHS4G we have joined Equality and Diversity UK's school's network. As members of their network we are able to access their expertise and benefit from their research, factsheets and quarterly newsletter on key issues and current topics. These resources will form an important part of our new online resource centre 'Change@CCHS CPD' and will be key in keeping our understanding current.
Colleagues also attended an event hosted by EduKit to commemorate Black History Month and shared their ideas and notes on the key topics including the quest for anti-racist education, teaching students about racism and diversity in leadership.
As ever our students remain at the heart of Change@CCHS and they continue to drive forward our framework. This month they have been key in celebrating Black History Month with a full programme of assemblies and workshops which have included every year group and student in our school.
We continue to be grateful for the support of our community and continued support of our Change@CCHS initiative.
Mrs Jo Cross, Assistant Headteacher (Teaching & Learning)
Meet some of  the Change & Diversity Prefects
Year 12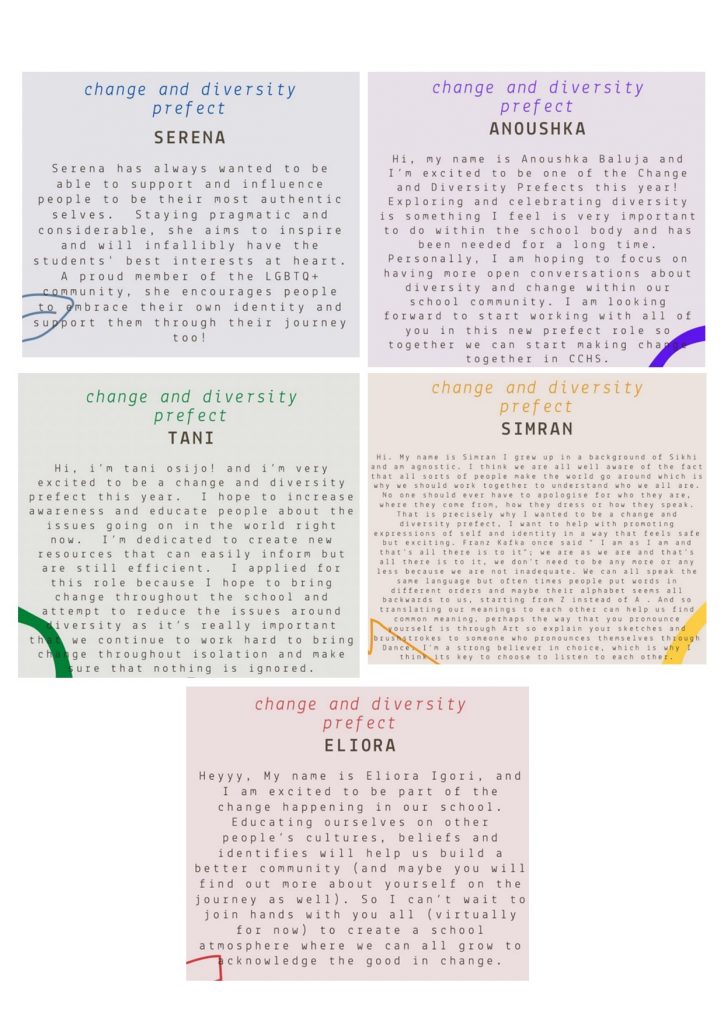 Year 10
Hi! I'm Bowale, I am so happy and excited to be a change and diversity prefect this year. I think by educating ourselves and others about different people's experiences and beliefs, we can all connect better as a school and community as well as make us more aware of the issues that affect our society. I am looking forward to working along with everyone and opening this discussion up more.
Hi, my name is Sithuli, I'm extremely excited to be one of the change and diversity prefects this year! I believe that it is really important to celebrate diversity and learn about different cultures, as it helps us understand each other and develop a stronger sense of community. I'm really looking forward to start helping to start making a change in our school.
Hello my name is Martha and I am really happy to have been given the role of a change and diversity prefect. I applied for this role because especially in this coming day and age change is arising – meaning that we can't stay in our usual ways and have to adapt with it. I look forward to working with the other prefects  so that every pupil in the school can feel loved and like they belong, no matter their situation, background, looks and the many other things that people easily judge. Furthermore, I believe that it's all about making small changes that will start to create big impacts- in essence, a ripple effect.
Hi, my name is Lola and I am very excited to be one of the change and diversity prefects this year. I'm looking forward to learning and spreading awareness for different disabilities, cultures and communities. I want to be able to help people facing unjust issues, especially as due to lockdown it has been harder for people to speak out. Hopefully I will be able to help make a difference in our school community!
Hello I am Mehar and I am so excited to be a change and diversity official this year. I wanted to apply for this role because I would love to help people in this school feel more comfortable and accepted. I really hope I can help make a difference here and look forward to being part of the change!
Useful Resources: