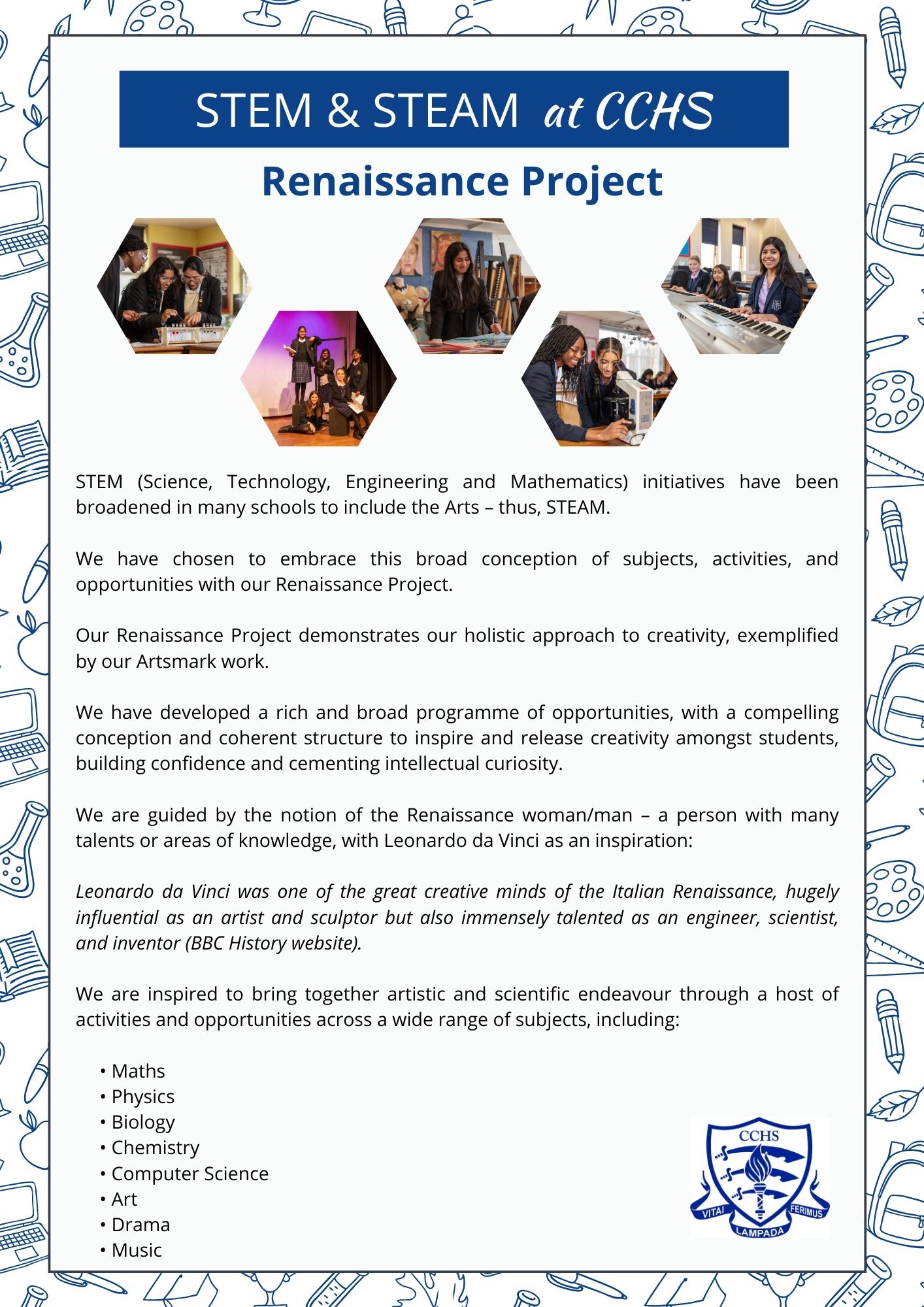 Curriculum
Core STEM offered from Year 7 through to Year 13:  Mathematics, Biology, Chemistry, Computer Science and Physics.
FSMQ is available for our Key Stage 4 students as an additional course.
STEM offering is developed further at KS5 with Further Maths.
GCSE Art course changed from Fine Art to Craft & Design to provide a greater range of learning opportunities for students.
CCHS is an Artsmark Gold Award holder and we have a clear vision on how creativity features within STEM (as STEAM) and across the whole curriculum.
The HPQ and EPQ offer students opportunities to explore an area of STEAM that interests them, supported by academic experts.
STEM Leaders Programme
We are delighted to have been approved as a Qualification Centre for the STEM Leaders Programme. CCHS was one of the first schools to sign up for this prestigious programme which was launched in 2021.
Our first cohort of Year 9 students completed the programme last academic year and we are delighted that they have been successful in achieving their Level 1 Qualification. We look forward to building on this success with our current Year 9 students.

Extra-Curricular and Enrichment
We have a STEM room and a STEM tutor who leads key projects and clubs for students.
Our Enrichment Day programme encompasses STEAM for our students. For example, the Primary Schools STEM day, Year 8 Creative Fest, Year 9 Forensics and our Scrapheap Challenge.
Clubs, competitions and societies offering STEM related opportunities include, but are not limited to:
Maths
Year groups
Junior UK Maths Challenge
Year 8 with 20 invitees from Year 7
Intermediate UK Maths Challenge
Year 10 with invitees from Year 11 and Year 9
Senior UK Maths Challenge
Invitees from Year 12 and Year 13
Biology
Biology Challenge (online)
Year 10
Biology Intermediate Olympiad
Year 12
Biology Olympiad
Year 13
Chemistry
Cambridge Chemistry Challenge
Year 12
Chemistry Olympiad
Year 13
Chemistry Race
Year 13
Top of the Race
Years 9-11
Gold Crest Award
Year 12
Physics
Physics Challenge (online)
Year 10
Intermediate Physics Challenge
Year 11
Senior Physics Challenge
Year 12
Physics Olympiad Round 1
Year 13
Adventure Island trip
Year 12
Science Live Physics Lecture
 Years 12&13
STEM competitions and projects
Industrial Cadets Gold Award EDT (50 hours)
Includes residential trip
Year 12
Industrial Cadets Bronze Award EDT (20 hours)
Year 9
Secondary Engineers leader award
Years 8-11
Arkwright Scholarship
Year 11
STEM Leadership Programme ((26 hours)
Year 9
CCHS Institute Lectures
Years 9-13
STEM Roadshow
Years 7-8
Electronics club
Years 7-9
Rampaging Chariots
Year 8
Science week

Whole school

(Led by STEM prefects and Science Prefects)

Chelmsford Science and Engineering competition (June)
Students who have entered other competitions/events
Student Run Societies
Biology and chemistry society
Upper school
Dentistry Society
Upper school
Med  Soc
Upper school
Physics -Engineering society
Upper school
Enrichment Days
Fizz Pop Bang (Primary) with sixth form support
Year 12
Creative Fest
Year 8
Maths
Year 13
STEM Discovery Day
Year 7
Maths Masterclass
Year 11
CSI Forensics Day
Year 9