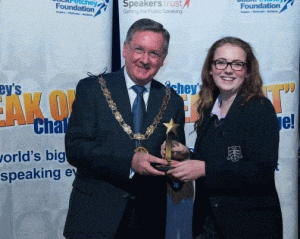 A TEENAGER has been presented with a prestigious award after winning a public speaking competition.
Caitlin Farrell, from Chelmsford County High School for Girls scooped the top prize in the Central Essex Regional Final of the Jack Petchey Speak Out challenge.
The youngster impressed the judges with her winning speech Fireflies, fighting off competition from 14 other young speakers during the competition at Chelmer Valley High School.
Caitlin, who will now take part in the Grand Final of the Speak Out challenge at the Piccadilly Theatre in July, said: "I am really delighted and over the moon.
"Thanks to Ms Brown who supported me."
Councillor Paul Hutchinson, Mayor of Chelmsford presented the awards. He said;
"Another inspiring evening. So many young people speaking and presenting with a special message that touches me personally.
"The judges must have had a difficult job choosing a winner. A great evening!"
Chelmsford Weekly News – 8th April 2016
Categories:
Uncategorised